Federal Reserve Chairman Powell called for a national strategy to reduce our 10% plus unemployment level in his recent January FOMC news conference.  We agree.  The February 11th state and federal unemployment report shows a surge in the number of claimants moving onto extended benefits programs.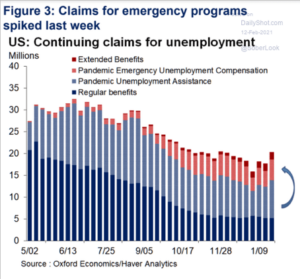 Sources: Oxford Economics, The Daily Shot – 2-12-21
The total number of claimants for all state and federal unemployment programs climbed up to 20.4M with a weekly increase of 2.5M.  The increase was primarily due to the December $900B relief bill passed by Congress to extend benefits another 26 weeks.
Our calculations (on our Indicators page) show more like an unemployment rate of 14.3% of the labor force unemployed.  Another concern is the percentage of jobless workers unemployed over 27 weeks as soared to 39.5%.
Five Proposals To Create Jobs
First, policymakers need to embrace labor as an equal partner with capital to sustain and build the U.S. economy.  Rather than labeling our economic system a 'capitalist' economy, we recommend a new name:  Labor-Capitalist economy.  Labor is first, as the economy should serve the needs of all the people.  Our democracy's foundation requires an economy that works for all people, not just the top 1% in income and wealth.
Second, the top priority for policymakers is to deploy a set of job development, training, and placement programs to match the long-term unemployed with new job openings. There is a mismatch of skills and education between many of the 8M long-term unemployed workers and 6.6M job openings. 
Most unemployed workers are in customer-facing services industries, while the new jobs are in information services and manufacturing.  Often, hospitality, travel, and small business sector skills do not match new economy openings.  As soon as possible, a federal initiative partnering with state employment development departments and colleges to shift long-term unemployed workers into productive mainstream jobs.
Third, we endorse Congressman Ro Khanna's 2018 imitative to create 50 technology institutes at land grant colleges and universities across the U.S. in designated 'opportunity zones' in rural areas.  The $100M program would offer five-year federal grants to qualified institutions.  Khanna notes:
"In an economy that is this wired, you should be able to live in the community you grew up in and work for any company around the nation," Khanna told The Guardian. "There is no reason we should have [hundreds] of thousands of jobs outsourced to China or Brazil or India. Those jobs can be done in rural areas of America."
We need more programs like Khanna's to bring Middle America into the information services age with new jobs in areas where laid-off workers live.  In the Midwest, millions of manufacturing jobs were lost to foreign offshore sites, or automated. Focusing the initiative in rural regions is critical to jump start these regional economies.
Fourth, we see the creation of long-term jobs as crucial to building employment.  President Biden's economic team has proposed a substantial Clean Air and Jobs Act.  We endorsed in our RIA post on replacing 10M lost jobs during the pandemic:
"The Biden administration has proposed a Clean Air & Jobs Act proposal for 10M new jobs by investing in climate projects and infrastructure for the economy. The proposal includes Job training, career development, and placement programs.  The initiative comes with a $2T price tag.  It will be interesting to see if the program will pass a divided Congress.  It seems like the most likely bill to pass will be about $1.2T."
Fifth, millions of manufacturing job openings require specialized skills, machine operation, and computer expertise that a vocational apprenticeship program could provide. A focused apprenticeship program can provide the on the job training and education needed to fit job requirements. The program funded by federal and state agencies will need outstanding professors, teachers, and training specialists with certificates carrying the same weight as a college degree with employers.
Germany graduates 500,000 apprentices each year, with all taking jobs at the end of the program. In partnership with companies, apprentices work part-time at a company learning from a master and then attending government-sponsored training.  There is much celebration for a worker attaining a master status with pictures in the local paper, industry websites, and executive recognition at the company.
American Policy Makers Need To Recognize the Value of Apprenticeship 
The U.S. will need to a de-stigmatize apprenticeship to make the attainment level on par or even more lucrative than a four-year degree.  Presidents of both parties supported apprenticeship programs in the past. Still, these job training programs were not sufficiently funded or gained critical industry support. Plus, they lack an awareness public relations initiative to change the recognition around a master status to have a long-term impact.
Our Top Priority Must Be Building A Jobs Creating Economy
Long-term unemployment will drive the economy into a stall or possibly extend the recession unless a strategic set of policies and programs are implemented. Relief checks and Federal Reserve liquidity will not create a solid job creation engine for the economy.  Executives are looking for the government to make significant investments in job training, development, and new sectors like environmental systems to build the foundation for continuing sales growth.  Plus, consumers will need to step up spending on a consistent quarterly basis for management to take notice and begin hiring.
When management sees the investment commitment to long-term growth over the years, not just a few months, then hiring by the private sector will pick up. Our labor force continues to shrink as short-term unemployed workers transition into long-term unemployment.  We are at the crisis stage of this recession and need swift direct investment to create a robust job-creating economy.