The virus swept into essential worker factories, farms, and grocery stores.  Many of these service employees are making minimum wage or less.  They often live with multiple generations of families together because they can't afford separate housing. While professionals could work from home on the internet, essential workers must come to work on-premise.  Working on-premise exposed them to other workers nearby who may be asymptomatic.  During the pandemic's spring wave, several Midwest meatpacking, food processing, and other plants had hundreds of workers contract the virus.
Past Recessions Hit People Across All Income Levels
Past recessions spread the impact across income groups. In the recessions of 1990, 2001, 2008, broad income groups were affected.  The COVID-19 virus impacted the low-income groups with layoffs, and they are more likely to become infected due to their close work conditions or tight home living area. Adding to their plight was their employer-provided sick leave and medical insurance. So when they lost their job, medical insurance was gone.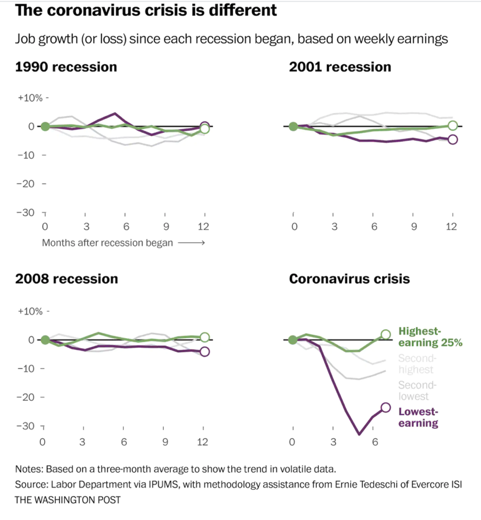 Source: The Washington Post – 9/30/20
Blacks, Hispanics, and younger workers have more slowly regained jobs than whites. For example, Black Americans have recovered just 33% of the jobs lost in March and April.  The pandemic has laid bare the inequality of wealth, income, and access to quality healthcare. For the wealthiest country in the world, the state of 50% of its citizens in a second class status is not acceptable. Moreover, heightened inequality levels destabilize our democracy. People that do not have a slice of the economic pie after working hard and starting a new business are justly disappointed, frustrated, and stop supporting democratic institutions.
Germany Has An Income and Health Safety Net To Learn From
European countries with safety nets for the people in place before the pandemic hit have fared better than the U.S.  Germany has implemented for economic emergencies a program of 'short term' income for workers laid off. Workers do not apply for unemployment insurance but instead receive checks from their employer-funded by the government.  The program was immediately implemented when the pandemic took hold, allowing 80% of manufacturing companies that experienced sales drops of 90% to furlough workers and bring them back quickly as the pandemic eased off and sales increased.  Health benefits and sick leave are government programs with private industry support, so people infected could access needed medical services.
As a country, we can do better, as Franklin Delano Roosevelt said about how to evaluate the success of a democracy:
"The test of our progress is not whether we add more to the abundance of those who have much; it is whether we provide enough for those who have too little."
— FDR, Inaugural Address, January 20, 1937.