Over 23M workers are on unemployment. The unemployment rate is 17%, a post Great Depression high. Renters and homeowners face a ballooning debt bill of $70 billion due in January 2021. About 35% of all small businesses report they have only enough cash to get through the next 3 months.  Yet, today the economy spirals downward as Congress and the President fail to act to prevent an economic disaster.
A quick review of the past legislation is instructive to understand where relief funding has been focused on support to workers and families. The first set of  nearly $4 trillion in relief funding in March and April provided: $1,200 in stimulus checks to individuals, Payroll Protection Program to provide funds for small and medium business, aid to state and local governments, and upgraded unemployment funding of $600 per week for all workers, and sick leave funding to businesses affected by businesses closing due to the pandemic. Most of these benefits including a moratorium on evictions expired on July 31, 2020.
Looking ahead toward the July 31st deadline,  House Democrats last May passed at $3.1 trillion relief package to renew jobless benefits at $600 per week which ended on July 31st, add funding for the Payroll Protection Program for businesses, provide state and local government aid, $1,200 stimulus checks to go to any one with a tax identification number, fund virus testing and tracing, a renewal of an eviction moratorium, and rent and mortgage funding assistance.  Senate Republicans waited until July to offer a response. They hoped the first round of $4 trillion in relief funding would be enough to get the economy up and running. Senate GOP leaders offered a slimmed down version of a $1.0 trillion relief package. Their relief bill focused on tax cuts, liability protection for businesses and renewed jobless benefits at $200 per week top rate.
For 6 months Congress has been dithering over the total relief package figure $1.0 versus $3.0 trillion. Negotiations are stalled about much protection and cuts to provide businesses, how much to fund virus control and what level of funding is needed for state and local government. No relief bill even on the points agreed on by Secretary of the Treasury, Stephen Mnuchin and House Speaker, Nancy Pelosi have been passed.  Nothing has been done to help workers!
Meantime corporations and Wall Street have received long term bailouts totalling $2.5 trillion from the Federal Reserve.  The Fed has injected liquidity in the economy by buying corporate bonds and bond ETFs.  Wall Street banks, and hedge funds have received loans at record low interest rates courtesy of the Fed.  The S&P 500 stock index a record high in early September while Main Street citizens are left crumbs.
Our elected federal leaders need to remember they represent the people. They have a sacred trust to help all of us through this virus triggered economic collapse. When a crisis arises it become quite clear who the government works for and who it leaves out of the bailouts.  Big businesses and Wall Street are provided long term funding and benefits to ride out the economic storm.   CEOs are confident in the economic future of their companies. Consumers have a more negative view of their economic future. The following chart shows the divergence in confidence between CEOs and consumers.  About 35% of CEOs expect to reduce their labor force, and 27% expect to keep wages flat.  How is that bleak employment future good for workers?  Yet, these executives are upbeat about their corporate future?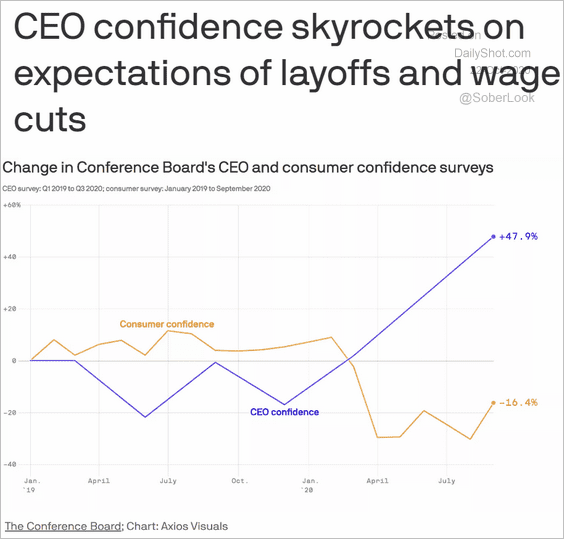 Sources: The Conference Board, The Daily Shot – 10/22/20
It is time for our politicians to focus on the economic needs of all the people including minority groups and those vulnerable to the virus. Our country today focuses on the needs of the wealthy elite. The top 1% drive our government policies to achieve their financial goals.  Republicans and Democrats need to work together to help all the American people through this crisis. When they cannot agree on an aid bill they have failed! We need to demand more consensus work from our elected representatives.  Its seems that we have an economic rocket tied to a political stagecoach. If our business leaders, entrepreneurs and small business owners acted like our federal government we would be back still riding horses to our jobs. It is time for democratic government reform to reclaim our democracy. Our government must be for the people, by the people and of the people.